Here is an ancestor of the product in the earlier post. It is a Process Scanner and Indicator. There was no control, but there were individual alarms for each channel.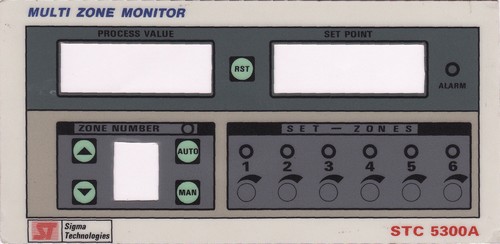 This is a original design of mine, obsolete now due to size and technology. The inspiration of the product concept was from a Omega Catalog Item. Even today i use the Omega catalog for inspiration, but i do not design complete products, only circuit sections.
The Omega catalog was introduced to me by the MD of a firm i worked in as a R&D Engineer in my young engineer like days. He used to call me and show a catalog product and ask me if i could build something like that. I would then design it working both at home and office, sometimes even in the night, it was just the enthusiasm or creating something new.
I even built the first Pneumatic Tyre Inflater with the help of the CNC director for that firm, this product won a national award in the nineties. I left the firm on a trivial issue which i never disclosed. It was Exhibition time, many new products were not complete, they asked me to make Mockup Dummy Instruments for demonstration only, overnight. I ran away.
Read more about Control Instruments at my pages here