Embedded Systems for robotics, automation/control, and instrumentation. Design and Consulting Services, Educational Kits. Hardware Development Boards and Software Systems.
BiPOM Electronics – Microcontroller systems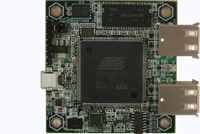 GadgetPC is a powerful, low-cost, 32-bit ARM9 (AT91SAM9260) based microcontroller system with 5 USB ports for interfacing to a variety of off-the-shelf USB devices. It is capable of running Linux. Can be powered by 5 Volts DC from the USB connector. The total power consumption of the board is less than 1 Watt.
GadgetPC powerful ARM9 Card from BiPOM
Some Specs –
ATMEL AT91SAM9260 (ARM9) embedded processor
8MB In-System Re-programmable Downloadable DataFlash Memory
32MB DDR RAM
Four USB 2.0 Full Speed (12 Mbit per Second) Host Ports
WebCat is one of the world's smallest web servers
Turn relays on and off, rotate and tilt cameras, display alarms on LCD, VFD and OLED displays, reboot/reset PC, activate robotic arms, watch motor speed, log temperature and humidity, display pressure and thousands of other real-world, real-time control and monitoring applications are possible.
WebCat Web Server is not limited to HTML pages. All client side scripting languages, such as Java applets, Java scripts, VB Scripts are supported.