Hardware design of digital, analog and microprocessor based circuitry. Circuits containing programmable logic or even ASIC's can be developed.
EMAC – Semicustom Embedded Engineering
Semi-Custom Development
There is no need to reinvent the wheel. Our off- the-shelf hardware has been fully field tested and development software has already been written.
Custom Product Design
Only your desired features are provided, costs are reduced. The required features, functions, and options can be placed on one printed circuit card, reducing costs.
Custom Design and Manufacture
Printed Circuit Boards, Hardware and Software, Control/Display panels. They supply and service, from concept to manufacturing.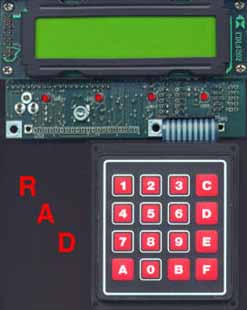 RADical new device that provides serial terminal access to a remote host via a keypad and an LCD.
The great thing about the RAD is you can use whatever host you're comfortable with, from PICs to PCs, as long as it has a serial port (RS232/422/485), you're set. No programming of the RAD is necessary, just simply send it ASCII data and it displays characters on the LCD. Enter data from the keypad and ASCII characters are returned to the host.
EMAC – Equipment Monitor and Control
Equipment Monitor and Control / Manufacturer of Single Board Computers, Microcontrollers, PC/104 Modules and Microprocessor Training Systems. Custom and Semi-custom engineering services also available.
EMAC's SBC One Stop-Shop bridges the gap between SBC microcontrollers and PC compatible SBCs by offering both a wide assortment of Motorola, Siemens, Intel, and Zilog microcontrollers, and a comprehensive line of x86 SBCs.
The EMAC Compact Server-In-a-Box (SIB) runs Linux as its Operating System and as such retains all of the networking and communications capabilities one would expect of such an operating system. Right out of the box, the SIB is configured for Ethernet, serial IP, serial terminal, and raw serial connections. Other devices, including PPP modem links, may be added and configured by the user.