Manufactures embedded controllers for the 8051, ARM7, C166/C167, and ST10 processors. They supply the hardware, software, and textbooks for embedded Ethernet, industrial control, education, and research.
Rigel – Ebedded Controllers and Software
Provides professional hardware design, OEM manufacturing services, and industrial software development for the 8051, and ARM7.
Rita-51J is a low-cost Internetworkable controller board using Rigel's Internet Technology Architecture (RITA). The MCS-51 / CS8900A combination takes advantage of readily available hardware and software tools as well as the wealth of publicly available applications source code.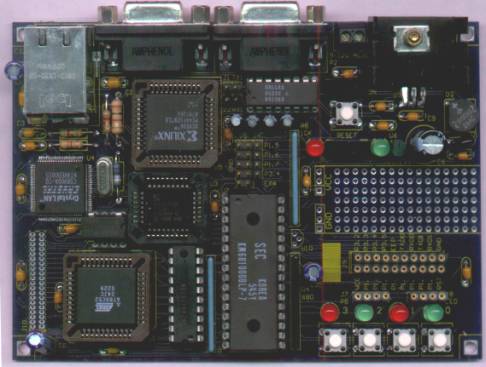 Reads51 – 8051 IDE C Compiler Assembler Reads51 allows writing, compiling, assembling, debugging, downloading, and running applications software in the MCS-51 language. Reads51 contains a C compiler, relative assembler, linker/locator, editor, chip simulator, assembly language debugger, and host-to-board communications in a user-friendly, menu-driven environment.
Graphically, the IDE consists of the main menu, customizable toolbars, and various windows. All windows, except the editor window are dockable. Dockable windows may be attached to any side of the IDE, or left floating anywhere on the desktop
8051 Hardware and Software Product Overview
Rita51, 8051 Embedded Controller for the Internet
R-A7SJ, ARM Controller
"Rigel Corporation also provides professional hardware design, OEM manufacturing services, and industrial software development for the 8051, and ARM7."
Rigel Corporation – 4300 NW 23rd Ave, Gainesville, FL 32606